So you got it: a dream internship. It could be a summer abroad for a French
Vogue,
a gig at Google or in our sports department. This internship is key to defining your next step professionally.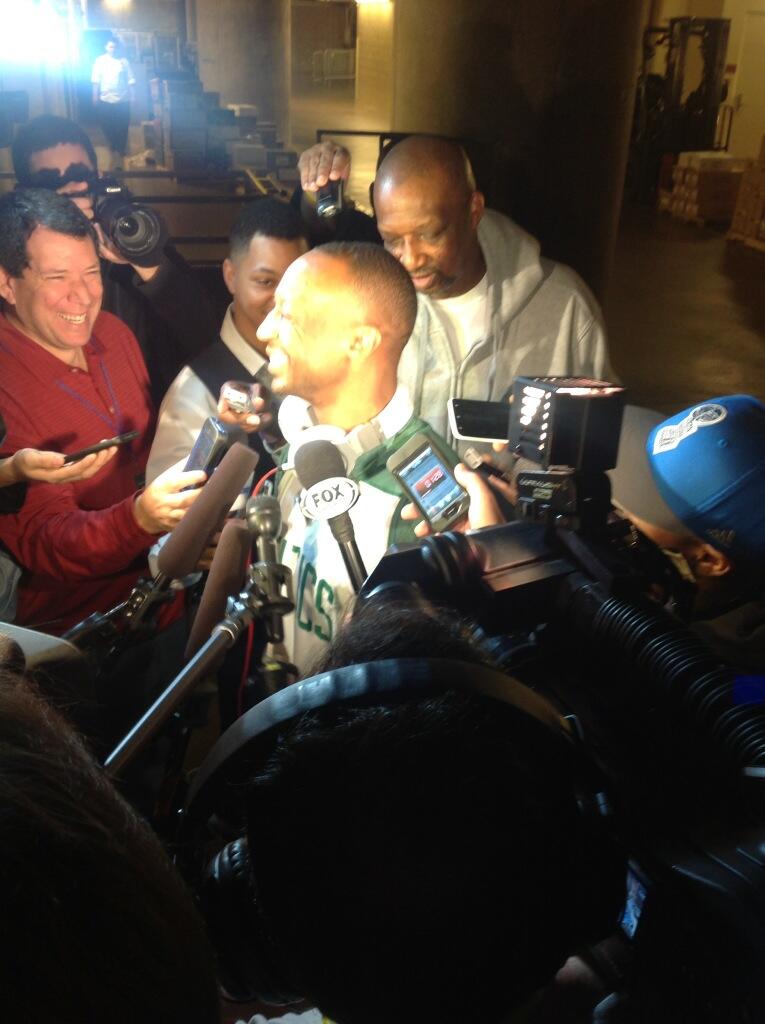 Interns in our sports department really do get to live out a dream. A day could be spent accompanying us to interview former Mav turned Celtic Jason Terry. Or it could be at a live broadcast with me trying to chase down former Cowboys greats for interviews. There are some thrilling opportunities.
But how do you make the most of them?
Time for Part II in the series "How to Win Your Internship and Parlay the Experience into a Successful Career." Let's examine things you should do to make your internship a success.
For details on my
internship with the Houston Rockets and how it helped me get a job,
check out Part I of this series.
First and foremost introduce yourself.
So many interns I've seen over the years, sit at a desk and don't say a word. Be nice and friendly to the people in department and company you're helping. They want to know who you are and your story. Stand up, extend your hand and give a genuine "Hi, I'm Cody/Madeleine/Whoever." A cordial hello is a great conversation starter and lets people know you're confident, approachable and there to help.
Remember what you're there to do: learn and help.
Once you get in your daily groove, ask your supervisor what you can do to help him or her on the particular day you're there as soon as you walk in the door. Make that a priority. If you're supervisor is busy, ask the people in the department. "Is there anything I can do to help you?" It's a simple question.
For every "No" you receive, remind the employees you would be happy to help them with anything they need. This goes a long way. If someone asks for your help while you're in the middle of something, be clear and let him or her know you're working on a project for (
insert the name of person you're helping here
) and you would love to help as soon as you have completed that project.
If everyone in the department says they don't need your help, be visible and available in case they do. Work on things that are relevant to your internship. An example would be doing research on the Cowboys, Mavs, Rangers, Stars, TCU, SMU, etc. An intern that goes MIA is NOT a good thing.
Be a proactive thinker.
Think one step ahead. What could the department need
tomorrow
? If there is a big event or project in the next few weeks, ask how you can help with that
?
In our case, we have the Rangers home opener vs the Angels on April 5th. A big one. We're broadcasting all day from Rangers Ballpark in Arlington. Is there something an intern can be doing to plan for that? A smart one would have already asked that question.
And speaking of questions, ask as many questions as you can.
Ask about everything: Why do you write that way? How do you stack a show? How do you white balance? Why is audio from a microphone on channel one and ambient audio on channel two? How do you get comfortable in front of the camera? How do you master the teleprompter? You can never ask enough questions.
Again, this applies to any industry.
It serves your best interest to leave your internship with a solid understanding of what everyone in the department does. In my case at CBS11/TXA21, interns should have a decent grasp of what a photographer, reporter, anchor, producer and editor all do. You don't have to do their jobs but you need to know what role they serve, why they are vital to our team's success and some of their basic duties.
How do you to go about doing this? Ask to spend a day shadowing each person in your department (clear it with your supervisor first). If that's not possible, request 10 minutes or so of their time to ask them questions. Employees really want to be helpful and want you to leave with great experience.
Before you get the glamour gig, you got to do the grunt work.
In my line of work, everyone wants to go games or practices to interview Dirk Nowitzki, Tony Romo or Ron Washington. Many of our interns get the chance on a daily basis and are thrilled to have the opportunity to do so. But when you're asked to do the "grunt work", in the TV news case, logging tape, logging games or finding video, do it with the same amount of enthusiasm and real desire to learn as you have to hit the Mavs locker room. While this is certainly TV news specific, every industry has its version of "logging tape".
Frankly, in your first job out of school, you'll most likely spend more time logging tape (the grunt work) than interviewing future Hall of Famers (the glamour gig). I have asked interns in the past to help me log tape and they don't put any effort into the project. That's fine, these are interns, I certainly don't expect them to do my job. But just understand, anything you are asked to do is an excellent opportunity to learn how to do an important job function of the TV industry or any industry. It's good to LEARN how to do something before you are PAID to KNOW how to do something and your professional reputation depends on it.
We had one recent intern, Ashlea, become an outstanding logger. Not by coincidence she was a good intern. She transcribed interviews so well I was able to use them verbatim. Subsequently, she got to do a lot of fun things: help us on remote shows at TCU, Mavs games, Stars games and more. She has since moved on to another strong internship with a regional sports network and can use me or many of my other colleagues as a reference. When she gets a job in the tv news/sports world she will know how to do this basic job function and won't have to spend valuable "first job time" learning how to do it. She'll be ahead of the game.
Behave professionally at all times.
It sounds like a simple thing to say but this needs to be stressed. Sure, you're an intern but act like you're a pro. Be professional and courteous. Remember "Please" and "Thank you" go a long way.
Also dress the part. Take note how others in the department are dressing. If you're unsure of what to wear, you know where I'm going with this, ASK. It's very simple.
The MOST important person is the one running the camera!
Some TV news specific stuff:
Learn to perform as many job functions as you can
.
In your first job you will likely be doing everything: shooting, reporting, anchoring and producing. Learn how to work a camera (ask the photogs). Learn how to tell a story and shoot a standup (ask the reporters). Learn how to edit and stack a show (ask the producers). Learn how to write sportscast (ask the anchors).
Be ready.
Have a tape or disc with you at all times to be prepared to shoot a standup if you want to be on-camera. Every time you go on a shoot with a photog, have a story in mind and be ready to shoot a standup. If you do this, you will have a good amount of material to begin working on your first tape. Also ask if you can shoot video. Ask your photographer for basic tips. Ask to do an anchor segment on the news desk. Most stations are happy to accommodate you.
A photographer is your best friend.
I repeat A PHOTOGRAPHER IS YOUR BEST FRIEND. He or she sees things you don't when shooting and helps you with a story. He or she can make you look like a million bucks on-air or like you haven't showered. A good one will offer a solid critique of your standup and reporting technique. Always ask to carry their tripod. Ask if you can grab a battery, extra tape or anything else they might need. Make sure they have plenty of water. Sounds silly but it's a very physical job and sometimes they just don't have time to get a drink. One more time:
A photographer is your best friend.
Next I will share things you SHOULDN'T do in your internship. There are plenty.
Monday, I will share a conversation with CBS11/TXA21 sports producer and intern coordinator
Chris Bullock
. He will outline what he looks for in interns, what makes a good intern and how he continues to see a growing number of interns who just don't get it.