Now it's time to focus on the diehards. You know who you are: You never sit during a game. You cheer on 3rd down like your life depends on it. And you will slit your wrist if Tony Romo throws a career-high 19 interceptions again in 2013. You are.....Mrs. Price.
Mrs. Price and DeMarcus Ware
Kidding. Sorta.
Okay. So you're heading to Sunday's season opener between Dallas and New York and you want to wear your Cowboys love all over. Here are some ideas that you can pair with jeans or shorts that will have you looking the part:
Nike Dallas Cowboys Ladies Champions V-Neck T-Shirt
is cute. This is great with skinny jeans, wedges and you're good to go. Maybe a fun hat, too?
This
Dallas Cowboys Women's Lace Star Tri-Blend T-Shirt
is also stylish. This would look great with a dark pair of shorts.
One of my favorite running hats
I am an avowed hat wearer. They can be tough to get right, though. Jerry Jones gave me this hat years ago and I still love it. You can no longer buy one like this but this white hat with a pink Cowboys star almost evokes Valentine's Day.
And if you REALLY want to show your love for your favorite team, how about a Dallas Cowboys manicure?
Courtesy CoolBeauti.com
Courtesy Laqueristas.com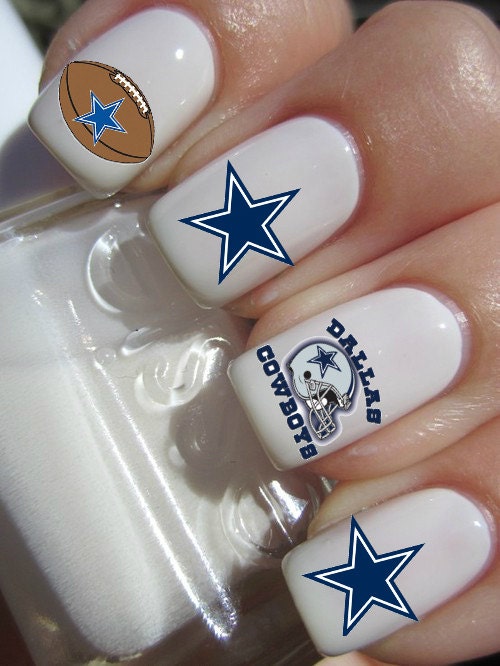 Courtesy Etsy
This proves nail art is a sport.
Thanks for reading. Have any questions about what to wear to the game? Any game? Email me at thatsportsgirl@gmail.com.
Here are some ideas for
what to wear to a Texas Rangers game
when it's 90+ degrees outside.